***CENTENNIAL CELEBRATION 1917-2017*** (Order a paver, banner, or sponsor the clock!)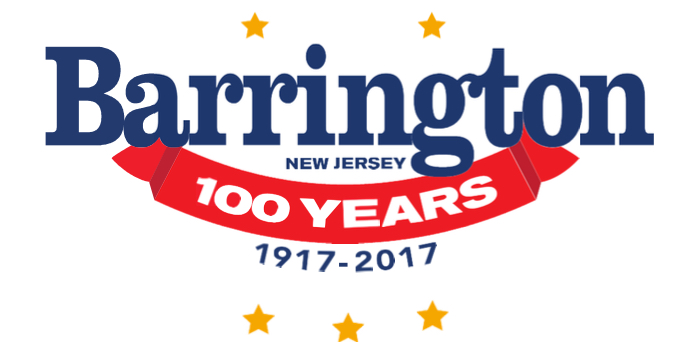 BARRINGTON TO CELEBRATE 100TH ANNIVERSARY!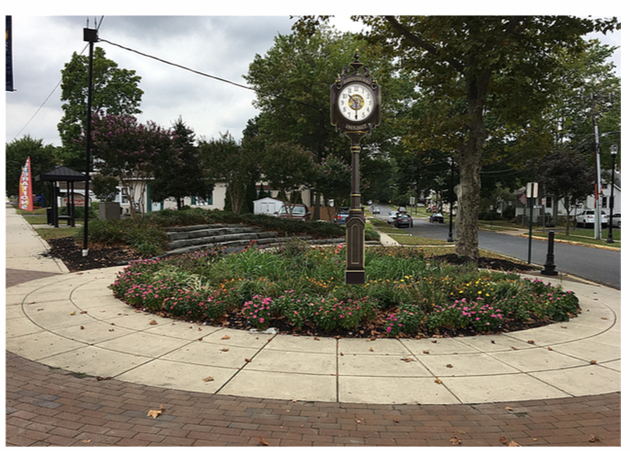 Artist' s rendition of what the clock will look like. Park will include benches and a floral garden.
On March 27, 2017, Barrington will celebrate its 100th birthday as it is the anniversary of when the town was incorporated as a municipality.
To mark this historic event, we have many events planned and one special project—the construction of Centennial Park which will be located at Clements Bridge Road and Trenton Avenue, across from Borough Hall. Centennial Park will feature a beautiful town clock, benches, engraved pavers and a floral garden. There are several ways you can get involved. We are selling engraved pavers, boulevard banners and sponsorships for both the clock and the benches. The sponsorships for the benches have not been finalized yet but orders for engraved pavers, boulevard banners, and clock sponsorships are currently being sold and can be personalized with your family or business name.
Please note that the pavers and banners will be sold ALL YEAR (2017) – there is no "due date." Any unsold pavers will be left blank when installed for the groundbreaking ceremony, and replaced later with purchased (engraved) pavers.
To download an order form, click below:
Mail forms (or drop off in person) with payment to: Borough of Barrington, 229 Trenton Avenue, Barrington, NJ  08007
ENGRAVED PAVERS—for a contribution of $100, you can purchase an engraved paver which will be located in one section of Centennial Park. It is a 4×8 EP Henry paver and can be personalized with three lines of type, 15 characters per line (including spaces). You can inscribe your family name, a business name, in memory of someone, or anything else you would like. These pavers have an epoxy fill and last indefinitely.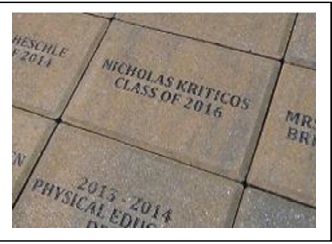 BOULEVARD BANNERS—for a contribution of $100, you can purchase a boulevard banner that will be hung on Clements Bridge Road at various times throughout the year. The banner can be personalized with your family name, business name or in memory of someone. These banners will be hung starting in March of 2017 and will remain hung until the holiday banners go up just before Thanksgiving. They will continue to be hung on Clements Bridge Road in the following two years in between the various holiday banners.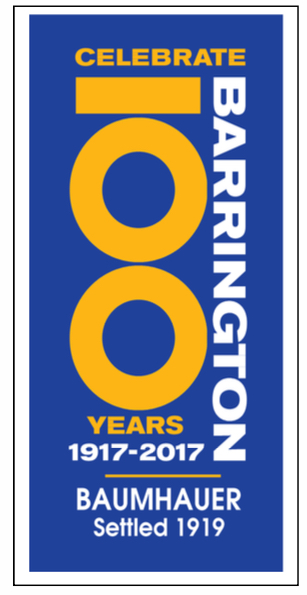 CLOCK TOWER  – The "clock tower unveiling" ceremony will be on May 29, 2017.   There will be a Memorial Day 10 am service at the Barrington Municipal Building, outside at the monuments, inside if it rains. The new clock will also be dedicated.  For a contribution of $300 per line ($200 for each additional line), your family, business, or organization can have your name printed on the clock plaque (example below).  All sponsors will be notified via email of the exact time for the unveiling ceremony.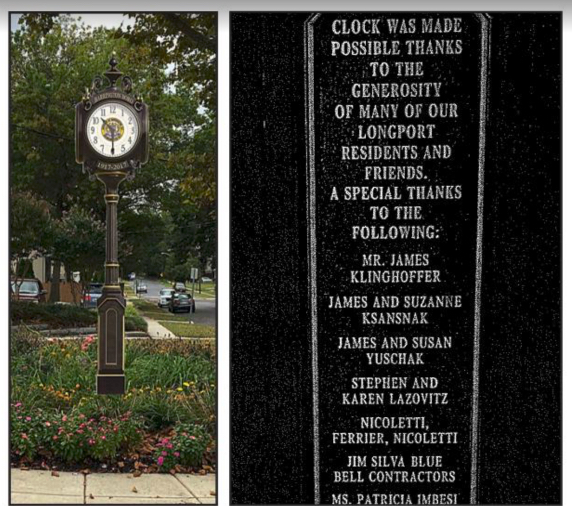 CENTENNIAL SHIRTS – These can be purchased at Borough Hall. See details in the image below.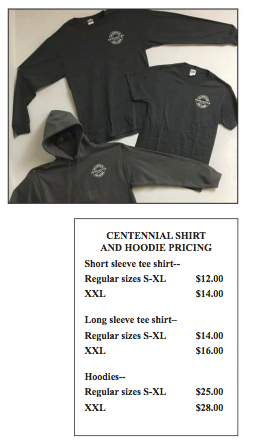 BARRINGTON'S 100TH CELEBRATION ADULT SOCIAL was held on MARCH 25 AT AVON SCHOOL.
VOLUNTEERS NEEDED –
We are still seeking individuals, organizations and businesses that are interested in being involved in the "Centennial Committee."  Our municipal events (Independence Day celebration, Harvest Fest, Thanksgiving Fire Truck Parade and many more) during the year will have the Centennial theme.
Those interested in helping are asked to contact the Mayor's office at (856) 547-8585 and leave your name, address and phone number (or email address) and we will contact you for your involvement. Or, you can show at one of our meetings. Our meetings are the
(3) third Wednesdays of each month, 6:00pm at the Community Center in the Borough Hall, 229 Trenton Ave., parking in the rear. The Community Center Entrance is right there.