*CENTENNIAL CELEBRATION 1917-2017* (Order a paver or banner or sponsor the clock!)

BARRINGTON CELEBRATES 100TH ANNIVERSARY!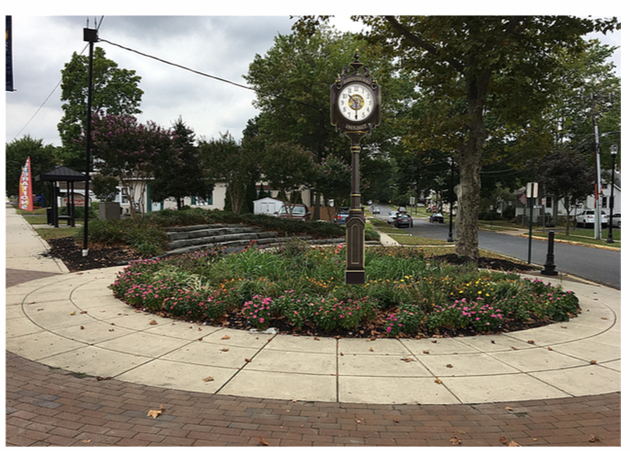 Artist' s rendition of what the clock will look like. Park will include benches and a floral garden.
On March 27, 2017, Barrington celebrated its 100th birthday as it is the anniversary of when the town was incorporated as a municipality.
To mark this historic event, we constructed "Centennial Park" at Clements Bridge Road and Trenton Avenue, across from Borough Hall. Centennial Park features beautiful town clock, benches, engraved pavers and a floral garden. We are selling engraved pavers, boulevard banners and sponsorships for both the clock and the benches. These can be personalized with your family or business name.
Please note that the banners, pavers, and clock sponsorships will be sold until April 30, 2018. The clock dedication ceremony was on July 3, 2017. The clock plaques (with sponsorships engraved) or pavers sold after July 3 will be added to the space as they are sold.
All proceeds from pavers, banners, and clock plaques are used to help defray the costs of Centennial Park.
To download an order form, click below:
Mail forms (or drop off in person) with payment to: Borough of Barrington, 229 Trenton Avenue, Barrington, NJ  08007
ENGRAVED PAVERS—for a contribution of $100, you can purchase an engraved paver which will be located in one section of Centennial Park. It is a 4×8 EP Henry paver and can be personalized with three lines of type, 15 characters per line (including spaces). You can inscribe your family name, a business name, in memory of someone, or anything else you would like. These pavers have an epoxy fill and last indefinitely.
The Centennial Clock was unveiled on July 3 at 5:30pm prior to the parade.  Pavers will continue to be sold until April 30, 2018, however, so if you missed July 3rd, you can still purchase a paver and all pavers will be installed at a later date.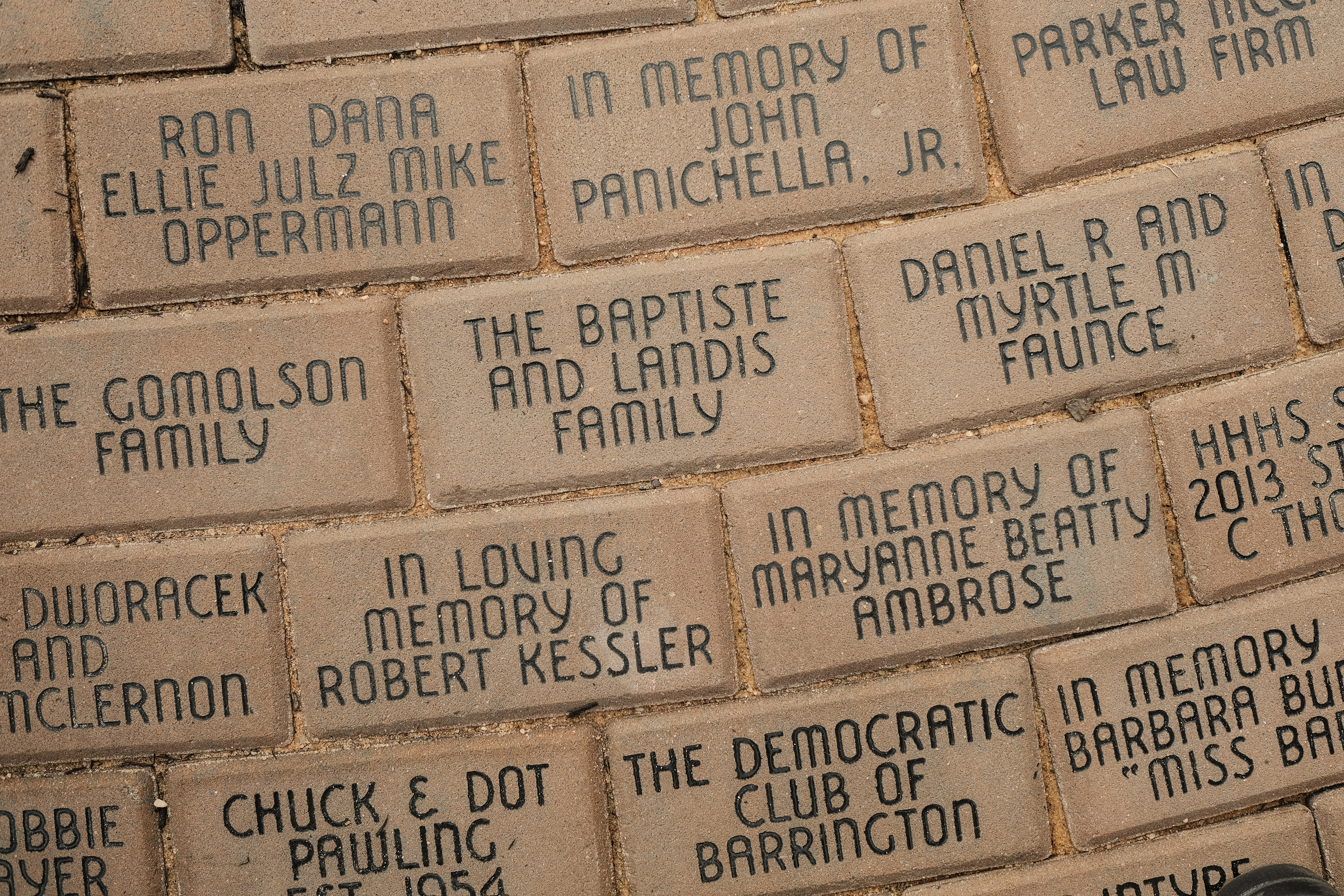 BOULEVARD BANNERS—for a contribution of $100, you can purchase a boulevard banner that will be hung on Clements Bridge Road at various times throughout the year. The banner can be personalized with your family name, business name or in memory of someone. These banners will be hung starting in July of 2017. They will continue to be hung on Clements Bridge Road in the following two years in between the various holiday banners.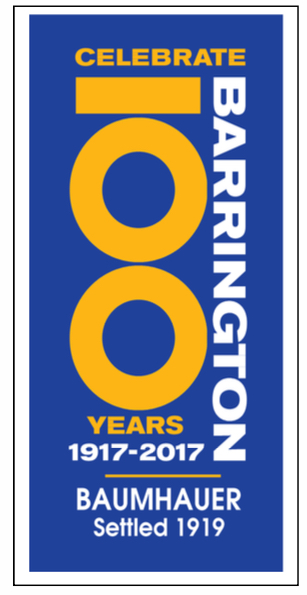 CLOCK TOWER  – The "clock tower unveiling" ceremony was on July 3, 2017.   On the face of the clock is a bronze plaque with the names of our first group of sponsors.  We will be adding three more dedication plaques as we sell the sponsorships. For a contribution of $300 per line ($200 for each additional line), your family, business, or organization can have your name printed on the clock plaque (example below).  Clock sponsorships will be sold all year and the finished plaques installed when all available sponsorships have been sold.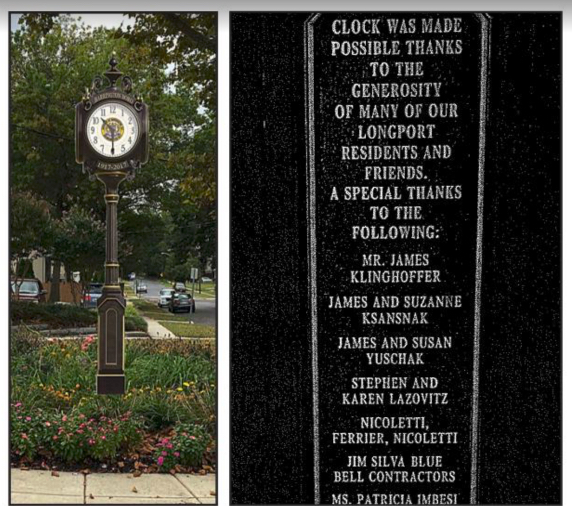 TIME CAPSULE – Twenty-five years ago, the 75th Anniversary Committee of Barrington deposited items and memorabilia into a time capsule to be opened 25 years later. That was 1992 and that time capsule was unearthed this past March. The items were mostly intact, though a bit affected by time and moisture. The items are on display at the Borough Hall.
The 2017 Time Capsule was sealed at our Reorganization Meeting on January 7, 2018 at 2:00 p.m.
As the children watched the items coming out of the time capsule from 1992, many wondered about the VCR tapes and the cassettes for tape recorders.  What will the group gathered in 2042 wonder about when they open our 2017 time capsule?!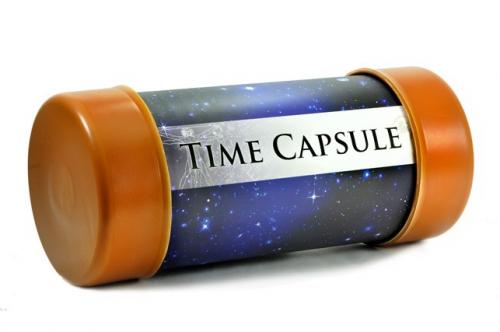 CENTENNIAL SHIRTS – These can be purchased at Borough Hall. See details in the image below.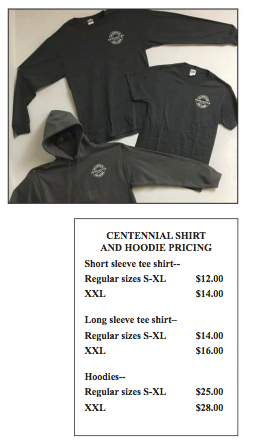 BARRINGTON'S 100TH CELEBRATION ADULT SOCIAL was held on MARCH 25 AT AVON SCHOOL.