Fire Prevention Open House, Oct. 12, 7-9 p.m.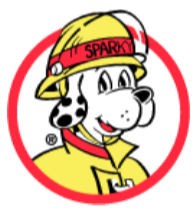 BARRINGTON FIRE COMPANY FIRE PREVENTION OPEN HOUSE WEDNESDAY, OCTOBER 12, 2016 7:00 P.M. – 9:00 P.M.
Come join the members of the Barrington Fire Company on Wednesday, October 12, 2016 from 7:00 p.m. – 9:00 p.m. at the annual Fire Prevention Open House. There will be free handouts & activities, firefighter gear to try on, fire hose activities, fire truck displays, ambulance displays, police displays and much more!!
**The winners of the Fire Prevention Poster Contest will be announced at 8:00 p.m. during the Fire Prevention Open House; awards for 1st and 2nd Place will be given for participating students in grades Kindergarten through 4th Grade.
SPARKY SAYS:
"DON'T WAIT CHECK THE DATE!!" REPLACE YOUR FIRE DETECTORS EVERY 10 YEARS!!