Garnet Youth Football seeks players and sponsors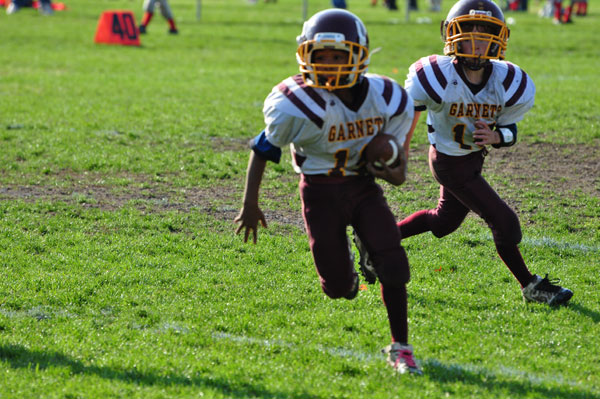 GARNET YOUTH FOOTBALL PROGRAM SEEKS PLAYERS …AND SPONSORS
The team is seeking athletes from Barrington, Haddon Heights and Lawn- side, ages 5 through 14, to join them on the gridiron. A dedicated coaching staff promises to teach them the art of the sport and a love of the game. Community members, parents and spon- sors are invited to partici- pate in helping to build the organization.
Garnet Youth Football is a member of the South Jersey Independent Youth Football Association. Their mission is to help youth learn the fundamentals of football, as well as the importance of socialization, hard work, dedication, and team unity. Emphasis will be placed on creating continuity for the Haddon Heights High School football program.
Sponsors
Generous support from their 2013 sponsors enabled them to provide 1st rate football equipment, uniforms and instruction to the kids.
Without the generosity of their sponsors, team leaders do not think that they could have met the expenses of running a quality youth football and cheerleading program. They sincerely appreciate the sponsors' involvement in the program and do everything they can to help promote their goods and services in the 3 towns (Barrington, Haddon Heights & Lawnside) that send students to our high school.
The committee hopes that local businesses and organizations will support them as Garnet Youth Football Sponsors. 2014 Sponsors will be recognized within the local communities as the team plays in one of the most competitive youth football leagues (SJIYFA) in the area. If you have any questions or would like to further discuss becoming a Garnet Youth Football Sponsor, please email Tom Dinella at tjdinella@comcast.net or call 856-761-7199.