Star Park CLOSED for renovations as of Jan. 3, 2018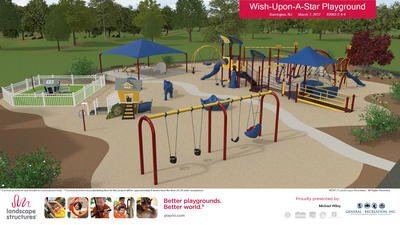 Wish Upon a Star Playground will close as of January 3, 2018 for renovations.  The new playground will open in the Spring of 2018.  Basketball courts will remain open the but the playground itself will be closed and will be roped off.  When the date is set for the grand opening of the new playground, information will be sent through the schools, Facebook and the borough website.
>>>>>
Barrington is partnering with the Kiwanis Club of the Haddons to rebuild the existing Wish Upon a Star Playground (behind the softball fields) at Moore & Reading Avenues.
The Camden County Freeholders have also contributed $330,000 for this project through CDBG funds.
The new inclusive playground will permit children of all levels of ability to play together without regard to developmental or other disabilities, and will promote friendship and a sense of community. The current playground serves the entire town and surrounding area. It is 21 years old, is deteriorating, and does not conform to today's safety and environmental standards. The Borough has demonstrated a commitment to maintain the playground at a high level for all these years; however, it is now reaching the end of its useful life and needs to be replaced.