Reminder: All Barrington cats and dogs require a license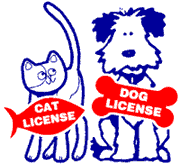 Dogs and cats in the Borough of Barrington are required to be licensed.  The fee for a neutered pet is $12 and non-neutered is $15.
These funds go into a trust account used solely for animal control including our animal control officer, shelter services, rabies clinic and T-N-R programs.
The 2015 deadline was April 30 for licensing, but we have extended the deadline to June 30.  Your pet has to have a current rabies certificate to be licensed.  Please stop in Borough Hall to get your pet license, call us to send you one by mail, or email us at tshannon@barringtonboro.com to receive an application by email.