Memorial Day, Independence Day information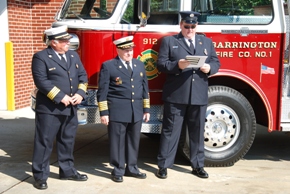 SAVE THE DATE for the following Barrington Events!
Memorial Day – May 29, 10 am – service at Municipal Building, outside at monuments, inside if it rains. (More information below)
Independence Day – July 3 parade at 6:30 pm and fireworks at dark behind Woodland School. The new clock will also be dedicated at 5:30 before the parade. Rain date for both is Friday, July 7. We will also be providing refreshments including hot dogs and ice cream at the clock unveiling! PLEASE NOTE: this is the first time there is a parade rain date!
———————————————————————————————————–
Click here for the below Memorial Day invitation as a printable PDF.
YOU ARE CORDIALLY INVITED TO ATTEND
MEMORIAL DAY SERVICES
AS BARRINGTON CELEBRATE IT'S 100TH YEAR
229 Trenton Avenue
Monday, May 29, 2017
Barrington Band – Musical Prelude – 9:30 am
Assembly – 9:45 am       Services – 10 am
GUEST SPEAKER – GEORGE (JOE) PREEN III- BARRINGTON RESIDENT. GEORGE IS A RETIRED STAFF SERGEANT IN THE UNITED STATES MARINE CORPS WITH SERVICE FROM 2000-2016. HE SERVED IN AIRCRAFT RESCUE AND FIREFIGHTING WHILE IN THE MARINE CORPS, INCLUDING TWO TOURS OF DUTY IN THE MIDDLE EAST. GEORGE IS A FULL-TIME STUDENT AT RUTGERS UNIVERSITY IN CAMDEN FOR THE MASTERS IN PUBLIC ADMINISTRATION (MPA) PROGRAM. HE HAS BEEN A MEMBER OF THE BARRINGTON FIRE COMPANY SINCE 1994 AND IS CURRENTLY A VOLUNTEER LIEUTENANT. GEORGE ALSO WORKS PART-TIME AS A FILL-IN FIREFIGHTER FOR THE BOROUGH OF BARRINGTON. GEORGE, HIS WIFE RACHEL, AND DAUGHTER SCARLETT HAVE RESIDED IN BARRINGTON SINCE RETIRING FROM THE SERVICE.
MAY IS NATIONAL MILITARY APPRECIATION MONTH
PLEASE JOIN US TO HONOR, CELEBRATE AND REMEMBER THOSE WHO GAVE THEIR LIVES IN DEFENSE OF FREEDOM AND TO HONOR THE MEN AND WOMEN IN ALL OF OUR ARMED SERVICES WHO HAVE SERVED AND ARE NOW SERVING OUR COUNTRY.
Dignitaries who wish to attend, please RSVP:   Eileen Eckert Holcombe: 856/547-8585 or eholcombe@barringtonboro.com
—————————————————————————————————————
Click here to view the following wreath-laying invitation as a PDF
May 17, 2017
TO:            All Barrington Employees/Volunteers/Clubs/Organizations/Churches  
FROM:      Councilwoman Patti Harris   
RE:                     MEMORIAL DAY – May 29th
Barrington's MEMORIAL DAY Services will be held on Monday, May 29th, at the War Memorials at the Barrington Municipal Building. Services will be inside if it rains. The Barrington Band will present patriotic music beginning at 9:30 am, assembly is at 9:45 am and services will begin at 10 am.
A PORTION OF THE PROGRAM IS FOR CLUBS, ORGANIZATIONS, CHURCHES OR BUSINESSES TO PLACE A WREATH AT THE VETERAN'S MEMORIALS. Presenters will be called up to place their wreath at a specific time in the program. Please advise if your club/organization/church would like to donate and place a wreath in honor of our fallen veterans.  Notification to me of your participation by May 22nd (or ASAP) would be appreciated.
In conjunction with the Centennial Year Celebration we hope many of you will attend and recognize our veterans for their service to our country.
Please contact Eileen Holcombe in the Mayor's Office, 856/547-8585 or by email: eholcombe@barringtonboro.com. In the subject line please put "Memorial Day".
Thank you for your consideration and anticipated participation in this special event.